In-Person Weekly & Monthly Classes are Cancelled for now.
ONLINE Only CLASSES
Paradise Tango is offering weekly ONLINE Classes for the month of September;. $10 per class to access online content(pay via PayPal (jendsmall@gmail.com) or Venmo (@Jennifer-Griswold) in advance to get Zoom password/link.!
Hybrid classes are held simultaneously at the studio in-person and streamed online.
HYBRID: Sunday Beginning Tango 12:00-1:00 pm (BYOP)
HYBRID: Sunday Advanced Tango 1:200-2:00 pm (BYOP)
HYBRID: Stretching & Balance 2:00-3:00 pm
ONLINE ONLY: Tuesday Rollout 6:00-7:00 pm
ONLINE ONLY: Wednesday Solo Tango Technique 6:00-7:00 pm
ONLINE ONLY: Thursday Rollout 6:00-7:00 pm
ONLINE ONLY: Saturday Morning Splits 10:00-11:00 am
Calendar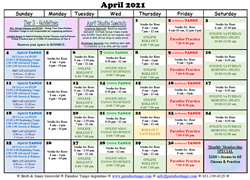 Click on the Calendar image above to link to our PDF Calendar. For past and future calendars (when available) click on the "Calendar (All)" link above in the menu.
Our Calendar includes all Paradise Tango events, important community events, and non-Paradise Tango classes held at the studio (e.g. Blues, Belly dance, Hustle).