Rental Agreement
Rental Areement Download
You can either click on the image above to down load the PDF of the Rental Agreement or you can click on either of the links below:
Note the PDF is not a "form fillable" version. You can print out either of these and mail them to the studo address, hand them to Jenny or Brett during one of our classes or leave the agreement with your payment on the Front Desk in a sealed envelope.
Parking Locations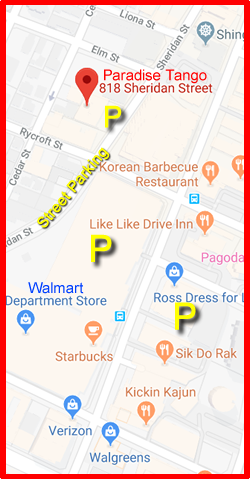 Studio Rentals
Paradise Tango Studio Space and Address

Our address is: 818 Sheridan St. #206, Honolulu, HI 96814.
Our studio space is available for one time event rentals, one time rehearsal rentals or for long term weekly or more frequent classes. We strive to provide an affordable dance space rental option to the Oahu dance community.
Rental Process
Contact Owner Jenny Griswold at 831-239-6529 or jenny@paradisetango.com to discuss your usage of the dance studio space and to confirm the availability of the dates/times you are interested in. Once you have spoken with Jenny you need to complete a Rental Agreement which can be downloaded (to the left). The document needs to be emailed, mailed or dropped off to Jenny prior to the start of your event.
Rental Fees
Our current hourly rental fees are below. Note they are subject to change at the discretion of Paradise Tango.
Type of Rental

Rental Rate/Hour

Hourly, Non-Weekly Class
("drop-in" rentals, rehearsals, non-weekly private lessons)

$30

Special Events
(single or multi day event, special workshops, parties)

$30

Monthly Repeat Scheduled once a week classes
(1 hour per week, 4 hours per month)

$25

Multiple Monthly Repeat Schedule Weekly Classes and/or Socials
(> 4 hours per month, combined between classes/socials)

$20
Amenities include:
1282 sq ft. Total Space (including dance areas, storage, check-in area and boutique)
XXXX sq ft. Main Dance Area
XXXX sq ft. Back Dance Area
XXXX sq ft. Storage Room
BRAND New laminated wooden floors
State-of-the-art Glassless Mirrors
Building Restrooms located right outside studio
Ballet Barres (three 5 ft, free standing)
Water cooler (hot and cold water)
Check-in desk
Built in AC system (on until 9 pm, building fan at all times, floor fans)
Decorative Lightning (running lights, and street lamp, chaneliers)
Studio Rental Availability
The studio is available for rental use most days before 6 pm except on Sunday. To reserve the studio for one-time or repeated events or classes it is necessary to call Jenny at 831-239-6529 to check that the dates and times are available. Private events are not noted on the Paradise Tango monthly calendar. General tudio space availability is listed is WHITE below (reserved notes in yellow):
Monday: 9:30 am - 6:00 pm/7:00 pm (availability varies, Monday evenings already reserved)
Tuesday: 9:30 am - 6:00 pm, after 8:00 pm (Tuesday from 6-8 pm alreayd reserved)
Wednesday: 9:30 am - 6:30 pm (Wednesday evenings 6:30-9:30 already reserved)
Thursday: 9:30 am - 5:30 pm (Thursday evenings 5:30-10:00 already reserved)
Friday: 9:30 am - 6:30 pm/8:00pm (availability varies, Friday evenings already reserved)
Saturday: 8:00 am - 9:30 am, 2:00-10:00pm (Saturdays from 9:30-2pm already reserved))
Sunday: 8:00 am - 11:00 am and 7:00 pm - 10:00 pm (Sundays 11am-7pm already reserved)
Parking
Parking is available in front of the building from 6 am until 5 pm. Unfortunately, after 5 pm we are not allowed to have our clients park in the lot. The agreement with the building is that the three restaurants/bars/karakoe places have use of the parking lot in the evening after 5 pm. The building managers recommend street parking along Sheridan Street or parking in one of the parking structurs near by. If you do park in one of the structures make sure to park on an upper level so it's not as noticable.
Damage
Renters are responsible for any and all damages to Paradise Tango property including, but not limited to, the dance floor and the glassless mirrors.
FLOOR: The floor can be damaged if allowed to be wet by spilled water, drinks or sweat. We ask that renters be conscious of any and all water on the floor and make sure to use the mop or paper towels provided to keep our floor happy. By signing the rental agreement renters agree to financially cover any repairs to the floor if damaged during the rental time. MIRRORS: The mirrors are glassless and made out of fabric. Thus, while the mirrors are very light, they are fragile and can be scratched, punctured or torn. By signing the rental agreement they agree to replace any mirror panels ($770 per panel plus shipping) damaged during the rental time.

Check-in Desk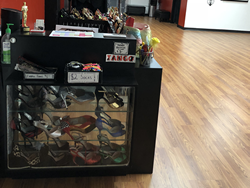 We have a lovely check in area for you to use when welcoming your students for your events. (click to see full size)
Main Dance Space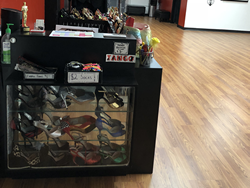 Our Main Dance Space is XXXX sq ft with glassless mirrors and has a Bose speaker system. (click to see full size)
Back Dance Space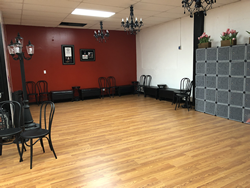 Our Back Dance Space also serves as a hangout area during dance events and our has our "Caminito Street" Instagrammable Wall with a scene from Buenos Aries. This area also has our water cooler and cups. (click to see full size image)
Storage/Food Room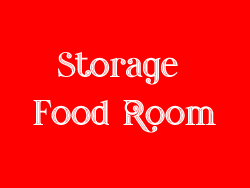 The Storage/Food room has a refridgerator that you may use to put drinks and snacks in during your classes and for events if needed. Food and Drink must be removed after your classes or events. (click to see full size image)
Speaker system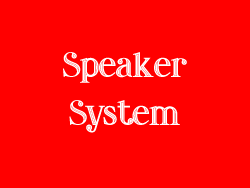 Speaker system that you can hook up your phone, computer or other device using our 3 mm cable. We have a stuio ipad connected tothe system, but it is encouraged for renters to use their own devices when renting the space. Do not change settings on speaker system, change volume on device.