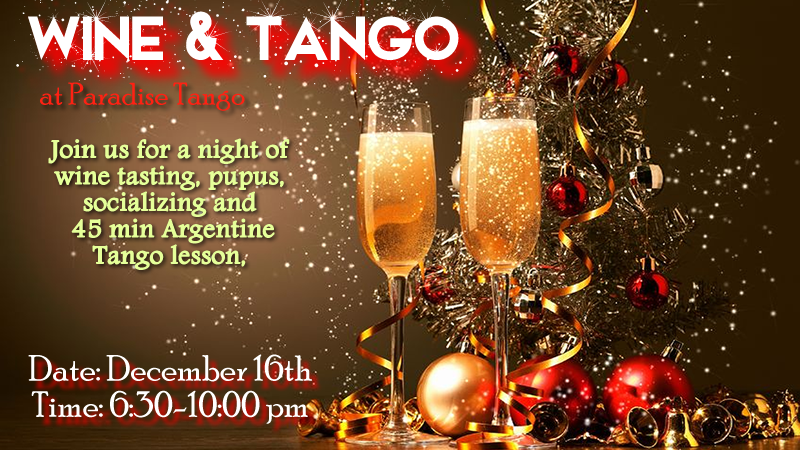 December 16th from 6:30-10:00 pm - Purchase Tickets in Advance!
$20 Paid in Advance on Eventbrite ($25 at the Door if we don't sell out online)
Includes Paradise Milonga from 8:00-10:00 pm
*Wine & Tango events are SPECIAL EVENTS RSVP Required - 21 and over ONLY Please!*
Due to schedule changes we've had to temporarily or permanently cancel a few classes:
Ballet for Adults - Cancelled until further notice. Private Lessons Available
Stretching and Balance for Dancers - Cancelled until further notice. Private Lessons Available
Girls' Night Out will be by Request Only - Schedule your own PRIVATE Girls' Night Out Event!
Private Fencing Lessons - Schedule private fencing lessons with Jenny at 831-239-6529.

OUR NEW WEEKLY SCHEDULE:
SUNDAYS: Two Drop-In Tango Classes and Performance! - Beginning Tango, Intermediate/Advanced Tango, and Performance Tango!

Beginning Tango - Noon to 1 pm
Intermediate/Advanced Tango - 1 pm to 2 pm
Performance Tango - 2 pm to 3 pm (10 week series, talk to instructors prior to enrolling)

Saturdays: No Private Lessons or Classes - Studo for Rent
Fridays: No Classes Studio for Rent
Tuesdays: Social Dance night with Oahu Tango at Medici's (w/Larry &Yara) 7:30 pm - 10:30 pm, No Classes or Private Lessons
Wednesdays: Private Lessons 6:00-9:00 pm Call for Availability, By Appointment Only
Thursdays: Rollout (6:30-7:30) for Dancers and $2 Tango Practica (7:30-9:00)!

..........

NOTE: Thursday Night Rollout - 6:30-7:30 RSVP due to limited space
.............
On Dec 6-8, 2014 Brett and Jenny broke the Guinness World Record for the "Longest Dance Marathon by a Couple" by dancing for 38 hours and 30 min!
Click on Image to be directed to the OFFICIAL Guinness Page!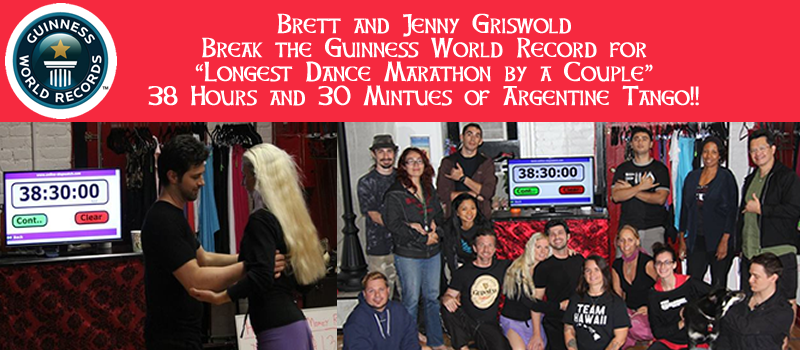 On Dec 14th, 2014 Brett and Jenny were the first couple to ever dance Argentine Tango for the Full Length of the Honolulu Marathon. They will be submiting their feat for a new"Record Setter" category of "Fastest Marathon Tango Danced" after completing the Marathon in 11:43:08!